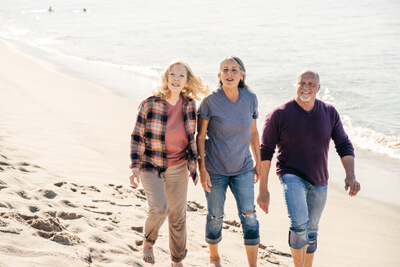 A person's hormonal needs are unique in their individual genetic makeup, health status, life stressors, environmental exposures, and nutritional status. At Innovative Health we believe that each patient considering hormone replacement deserves a provider with a thorough understanding of how all hormones interact.
At Innovative Health we use only bioidentical forms of hormones. Women using natural hormone replacement have been shown to live longer lives.
Bioidentical Hormones
The term "bioidentical" refers to hormones that are chemically identical to those your body produces. The term "natural" means the hormones come from an animal or plant and are not synthesized in a lab. Bioidentical Hormones can be delivered in various forms such as:
Orally through pills, capsules or troche
Injection
Pellet Therapy
Creams
Gels
Skin patches
Bioidentical Hormone Replacement Therapy is available in set standard FDA-approved forms and also can be customized for each patient. Innovative Health uses advanced testing including serum and saliva to determine the exact therapy for your compounded hormones. We also provide our patients with advanced urine testing to assess the methylation of the hormones to minimize risks of breast and other cancers.
Hormone Pellet Therapy
Innovative Heath has been improving the lives of its patients using hormone pellet therapy for many years. We received our training in Bioidentical Hormone Replacement Therapy from Dr. Rebecca Glaser, renowned pioneer, researcher, and international speaker on Testosterone Pellet Therapy. Dr Glaser's groundbreaking research has allowed us to utilize Hormone Pellet Therapy today is an effective method of hormone replacement.
Hormone Pellet Therapy uses bioidentical hormones that are made by a compounding pharmacist to be identical to the body's own hormones. They are introduced subcutaneously under the skin using a simple procedure done in the office setting.
Many patients choose hormone pellet therapy for their long-term effectiveness of 3 months or longer. Hormone pellets provide a slow, gradual release of hormones without the common "up and downs" seen in other treatment modalities.
Testosterone is not just a "male hormone." In women, natural testosterone declines in the early 20's and often is completely depleted by the time a woman reaches menopause.
Testosterone is about libido, but it is not just about libido! Although testosterone is effective in the treatment of low libido, it also supports bone growth and strength, reduces fatigue, supports muscle mass, and aids in overall mood (anxiety, irritability, and depression). Research supports testosterone replacement for the improvement of cognition, rheumatoid effects such as joint pain and urinary incontinence. Testosterone replacement is an important factor in the overall physical and mental health of both men and women.
For more information and the latest in research on Hormone Pellet Therapy visit hormonebalance.org
---
Our Location
Innovative Health LLC
111 Fountains Blvd
Madison, MS 39110
Phone: (769) 241-3447